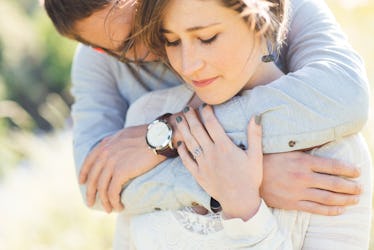 A Wedding Vow Writer Reveals The 5 Signs You're Marrying The Wrong Person
Those who work in the wedding-planning business see all kinds of engaged couples. These industry professionals have the opportunity to observe the best and most intimate moments between two people in love. Unfortunately, they are also privy to the many challenges of life in a committed relationship. When it comes to signs your engagement won't work out, sometimes your wedding planner, engagement photographer, or another expert involved in your wedding spots the red flags between you and your fiancé.
I spoke to Alexis Dent, founder of custom wedding vow service XO Juliet, about signs an engaged couple might be headed for trouble. While her insights are fascinating, it's important to understand that no two couples are exactly alike. These observations are simply one person's experiences. Dent says it best herself: "If there's one thing I've learned, it's that no two relationships are the same. I try not to judge couples, as I realize that no relationship is perfect. And we all know what people say about assumptions," she adds.
If you're having doubts about going through with your wedding, here are five signs that point to potential trouble. And in the event that you do decide to call off your engagement, it's nothing to be ashamed of — it's OK to put your own happiness first. It's easier to call off a wedding now than to call up a divorce attorney a year from now.