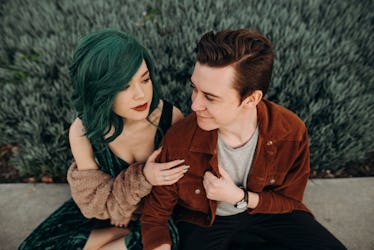 Experts Say These 5 Signs Mean That Someone Might Not Be Trustworthy, So Take Note 
How trusting are you of new people when they come into your life? Are you cautious, or do you vet them before getting too close? It may sound a bit cynical, but if you've been burned by someone you've let in before and now you're skeptical of trusting new people, I don't blame you. In fact, I kind of envy you, because learning to take a beat and get to know someone before giving them my full trust is a lesson I had to learn the hard way... repeatedly. Sound familiar? If so, it might be time to familiarize yourself with some of the signs you shouldn't trust someone, so you're a whole lot less likely to get caught off guard, or give your trust to someone who is not entirely worthy of it.
Since I am clearly just as much in need of these lessons as you may be, I reached out to the experts for their advice on how to spot someone who is not trustworthy. I asked what behaviors they suggest being on the lookout for that are actually red flags that a person is either actively dishonest, or just too unpredictable for you to feel safe opening yourself (and your life) up to them. Here is what they say to pay attention to.