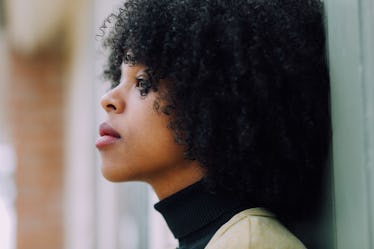 4 Signs You Might Have Trust Issues — & How To Start Solving Them
Struggling to trust the person you're with is never fun. No matter how much you love your partner, it can still feel pretty crappy to be on edge all the time wondering if they're going to betray your confidence. Sometimes, people treat you badly and have to work to rebuild your trust, but in other cases, you might be struggling to trust them for a reason you can't explain. This could be a sign you have trust issues, which is indicative of a larger inability to trust people in general.
Take it from the experts: Trust issues come in all shapes and sizes. "Trust issues usually stem from a breach of spoken or unspoken expectations or boundaries in a relationship," says therapist Liz Higgins, LMFT at Millennial Life Counseling. "They can be as clear as something like cheating on a partner, or as ambiguous as having friendly banter or conversation with a person of the same sex on a social media platform." But whatever is going on, she says, all that matters is the fact that you're feeling betrayed. Wallowing in your confusion and sadness won't do any good for your relationship. Instead, try to figure out what's going on at the root of the situation, and address it with your partner before lashing out. Check out these telltale signs that you might have trust issues — and the best remedies to start solving them.