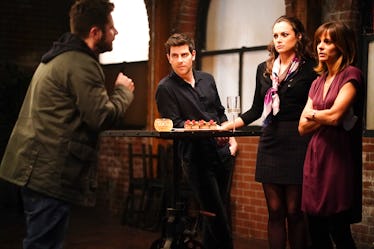 If You're Obsessed With 'A Million Little Things,' You'll Love These 5 Emotional Mysteries
ABC/David Bukach
Season 1 of A Million Little Things concludes on Feb. 28, and it feels like a hot minute since this drama's early promos were all we saw if we turned on ABC over the summer. Since then, the mysterious circumstances behind Jon Dixon's suicide have drawn in viewers, while the present-day obstacles his family and friends face often have fans reaching for tissues. We have a long wait to go until the series returns for its second season, so if you need that twisty, emotional fix on your screens ASAP, check out some of these shows like A Million Little Things.
There aren't too many shows with a "mystery" that include the realistic, everyday setting of A Million Little Things, so many of these picks fall into a fantasy or sci-fi category. That just makes A Million Little Things even more unique, but you might as well binge a fantastical show that will still lead to a cleansing cry. After all, I definitely need a break from dissecting Barbara Morgan theories and wondering if Delilah is ever going to tell the truth about her baby.
Even better, you can currently find all of these shows on streaming services. Grab your Kleenex and start theorizing!