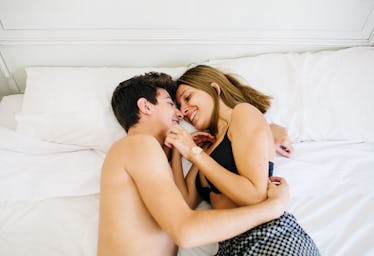 5 Sexy Ways To Enjoy Intimacy That Don't Involve Penetration, According To Sexperts
Penetration during sex is great — but it's not everything. If you want to mix it up, you should be empowered to explore all kinds of ways to explore intimacy that don't involve penetration with your partner whenever you want. The more you experiment and open yourself up to new experiences, the more satisfying your sex life will be, and the more intimate you will become with your partner.
Dr. Jessica O'Reilly, host of the @SexWithDrJess podcast, agrees. "You certainly don't require penetration to achieve pleasure or intimacy, and research reveals that sex is more fulfilling when you engage in a wider variety of activities," O'Reilly tells Elite Daily. "Data suggests that approximately one-third of women report reaching orgasm consistently via vaginal penetration alone, so it makes sense that we'd seek out and celebrate alternatives." So, it follows that "once you discover what takes you over the edge, you're unlikely to view them as alternatives and instead define other activities as 'sex' itself. This is why the definition of sex varies from person to person."
If it just so happens that you're in the mood to try out some new alternatives to, ahem, "celebrate," here are a few ideas the experts suggest you try with your partner... tonight.