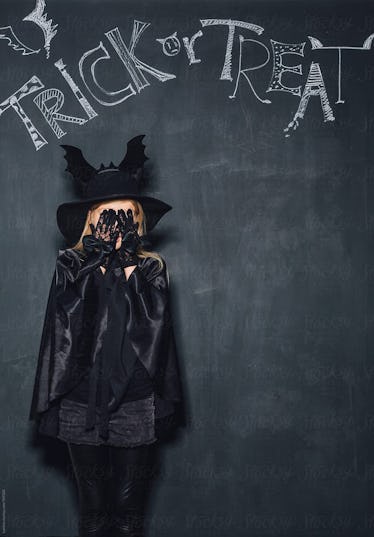 Avoid These Sexist Halloween Costumes So You Can Enjoy Halloween Drama Free
Lumina/Stocksy
I'm going to be upfront: Halloween is absolutely my favorite time of the year. From the crisp fall weather to the exciting nightlife, this spooky holiday is the perfect excuse to let your hair down and just have some good ol' fashioned fun for the night. However, picking Halloween costumes can be tricky, and you want to make sure it's an outfit that's tasteful and cheerful. So, for those still racking their brains about what costume to choose, here's a list of sexist Halloween costumes to definitely avoid this year.
It's no secret that Halloween costumes for women have tended to lean towards "sexy this" and "sexy that," but while some people may enjoy that flash of skin, some costumes definitely have sexist undertones to them. Not only that, but there's been a few Halloween costumes that have been popping up over the past few years that are definitely not OK. Just take the Kim Kardashian "robbery" Halloween costume from 2016 as an example, which showed the business mogul blindfolded, bound, and gagged in a bathrobe. Not only is that inhumane on so many levels, but it's a clear example that people sometimes make bad calls if it means showing off a "trendy" Halloween costume.
That being said, this can get tricky. It's OK — this list of costumes to avoid this year will help you have a fun and completely unproblematic Halloween this year, with nothing to worry about but the Halloween spirit.