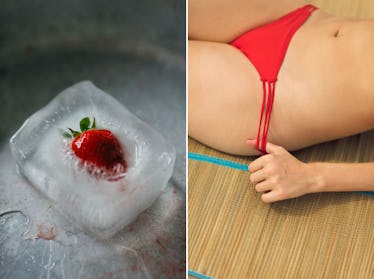 5 Sex Moves That Incorporate Ice Cubes Because It's So Freaking Hot Outside
Admittedly, few moments in the Fifty Shades franchise really got me going. Christian Grey's tantrums and red rooms aren't exactly my thing, you feel? That said, there is one scene in the first film that's undeniably a little intriguing — and, uh, some sex moves with ice cubes are involved.
Basically, Christian strolls into Anastasia Steele's apartment (kind of out of nowhere, which is weird, but whatever) and quickly ties her up, strips her down, and blindfolds her. You know, what most people do upon entering a person's home. But then (then!), Christian take an ice cube in his mouth and works it down her entire body — from her neck past her belly button. And it is insanely hot and insanely cold all at the same time.
Of course, this is just one of many ways you can incorporate ice cubes into your sex life (read down a bit further and you'll see what I mean). And as heat and humidity continue to creep into the summer air, what better time to bring these insanely hot and cold moves into your own boudoir?
Here are five incredibly sexy — and icy! — moves you can try with your partner during the steamiest, sweatiest days of summer. Who needs an AC unit when you've got a handful (or mouthful) of ice cubes?