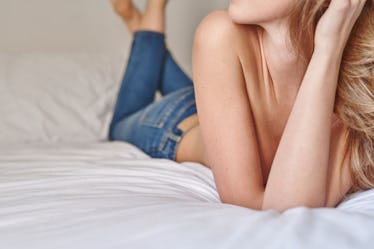 5 Sex Moves To Try With A Scorpio & Impress Them In The Bedroom
If there's one thing you probably know about Scorpio, it's that they have a reputation for being passionate lovers... and folks, believe the hype. While there's definitely more to this sign than their sexual prowess, being highly sexual is part of the Scorpio package. Ruled by Pluto, Scorpio is all about power and transformation. This is a sign that likes to get a little dark and a bit naughty, so If you're looking for a few sex moves to try with a Scorpio, then it's time to throw out your taboos.
While Scorpio is undoubtedly sexual, there is a much deeper side to this sign too. Because Scorpio projects so much ~heat~, it's easy to mistake them for a fire sign. But get close to one, and it quickly becomes clear that they are a true water sign. Scorpio puts up a defensive wall, projecting their power and confidence, but once you get past their defenses, you'll find a deeply emotional and loving heart. This is a sign that desires loyalty above all else, and wants security and a deeper emotional connection. Basically, Scorpio is the total package of passion and heart. Why not celebrate them by spicing things up in the bedroom with some new sex moves?