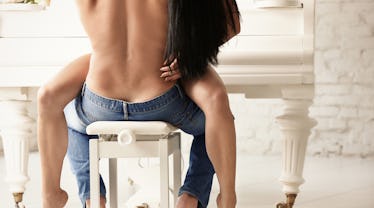 Get In The Hot Seat With These 5 Sex Moves To Try On A Chair
Beds are great. They're great to sleep, lounge, watch TV, have breakfast in and shake the crumbs out of, and a classic venue for getting it on. But bed sex, while great, can also get a little stale if it's the only sex venue you're frequenting. That's why it's helpful to venture out and take your sexing to a new location. While for some adventurous folks that means the great outdoors or a fancy hotel in a new city, all you really need to shake things up are some sex moves to try in a chair — and a steady chair to do them in. The opportunity for sexploration and spiciness is just a room away.
If you think chair sex is limiting, think again, because these positions run the gamut from easy, relaxed, and perfect for slow lovemaking. all the way to so intense and heart-pounding that you've got your cardio covered for the week. Whatever your speed (literally and figuratively), these chair sex positions have got you covered. With that said, here are some seated sexy-time positions to add to your repertoire. Warning: Some of these are so hot, you may forget you even have a bed.