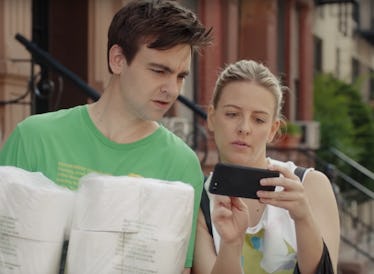 5 Reasons You Should Be Watching Comedy Central's 'The Other Two'
I've been a huge Broad City fan from the beginning, and now that the end of the series is fast approaching I'm already feeling the beginnings of withdrawal. Who will provide me with my weekly mix of laugh-out-loud jokes and highly relatable millennial content? Well, it turns out that Comedy Central is taking care of its audience by making sure Broad City fans have a new hapless duo to follow through New York City hijinks. The new show The Other Two follows siblings Cary (Drew Tarver) and Brooke (Heléne Yorke) who deal with their middling careers and dating foibles. That's all while their teenage brother enjoys the huge success of a pop career fueled by a viral YouTube video. If that sounds like the perfect set up for a series, you would be right.
Cary and Brooke deal with their lives as "the other two" siblings who aren't doing nearly as well as their younger brother, who goes by the pop star name of ChaseDreams. But while they do so, the show makes the most out of finding both humor and heart in the entertainment industry, family life, generation gaps, and so much more. Here are five reasons The Other Two is required viewing.