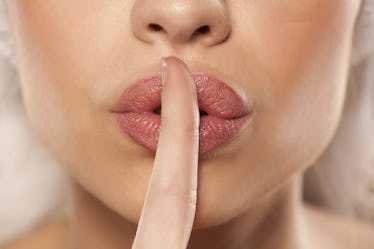 5 Quiet Sex Moves Your Roommates Won't Be Able To Complain About
Having a roommate is great — especially when the rent is due — but when you have a great one, it's basically like having a live-in best friend. You have someone to decompress with, share meals with, and party with on the weekends. But there is one universal drawback to having a roommate, no matter how much you like them, and it's a lack of privacy when you're ready to get it on. So, if you're currently cohabiting, it pays to know a few quiet sex moves your roommates can't hear so that you don't have to be embarrassed the next day, or make your poor roommate feel awkward with all your oohs and aahs, if you know what I'm saying.
The good news is that quiet sex doesn't mean boring or unsatisfying sex. In fact, the need to keep it on the down low may even add to the fun and excitement of getting it on, knowing that there are people in the next room. Plus, it means you aren't going to be the one who makes everything awkward during breakfast. So, next time bae comes over, give these sex positions a try, so you that you can get your sneaky freak on.