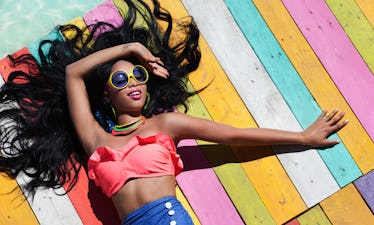 5 Quick Tips On Planning A Last-Minute Getaway You'll Actually Enjoy
I'm no stranger to planning last-minute trips. Just in the past month, I went to Vegas for 36 hours, went on an impromptu trip to Vermont with my boyfriend, and headed to India and the Maldives with less than a week's notice. But as fun as spontaneous trips can be, they can also be a little stressful making sure you have everything you need. I mean, you want your trip to go off without a hitch right? Here are some of my quick tips on planning a last-minute getaway you'll actually enjoy.
From investing in quality travel luggage, to keeping all of your travel necessities in the same place, there are a few things you can do to make sure that you have a last-minute trip that's actually worth the hassle and coin. Not only will these reminders help you plan a great trip, but they'll also ensure that you'll be able to make the most of your getaway.
If you're thinking of taking more spontaneous trips in 2019, you'll definitely want to keep these quick tips handy. So get ready to pack your bags and head out on a new adventure. Your passport — and Instagram feed — will thank you.