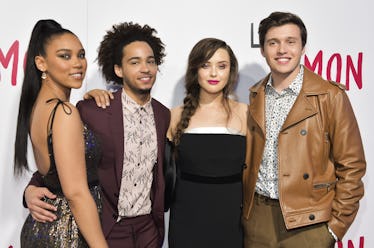 5 Queer Women Describe How 'Love, Simon' Made Them Feel About Their Sexuality 
Rodin Eckenroth/Getty Images Entertainment/Getty Images
Love, Simon captured my heart with its innocent cheesiness, queer representation, and (spoiler alert) happy ending. While it has been a long time coming, I'm thrilled it has finally arrived, making us all reach for Kleenex throughout the entirety of the movie. I wanted to see what queer girls thought about it – so I found out how queer women react to "Love, Simon" and what it meant for them.
Seeing such representation normalized in a fun, John Hughes-esque film is so important – especially when seeing gay characters usually portrayed in a tragic, ill-fated manner, or simply reduced to a stereotype rather than a three-dimensional human being. In Love, Simon, main character high school student Simon Spier (Nick Robinson) strikes an anonymous e-mail friendship with another anonymous and closeted peer (Keiynan Lonsdale). Simon has loving and progressive parents (Jennifer Garner and Josh Duhamel), a loving little sister (Talitha Bateman), and a supportive group of friends (Katherine Langford, Alexandra Shipp, and Jorge Lendeborg, Jr). However, he's nervous about how his life will change if they all find out he's gay – and, another student (Logan Miller) learns of Simon's secret and threatens to out him.
This gay, coming-of-age romantic comedy is the first of its kind: it's the first time a big-budget production company (20th Century Fox) put a rom-com centered around a young gay character in movie theaters nationwide. The movie was met with both praise and critique by the LGBTQ+ community. Here's what four women had to say about it.