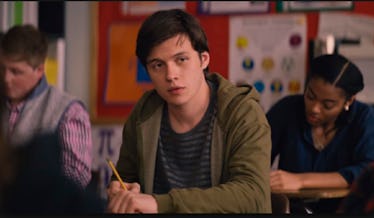 5 Things To Know About 'Love, Simon' Before Seeing It In Theaters
20th Century Fox
The new film Love, Simon has provided what the film industry seems to have lacked previously: a contemporary gay teen romance. Spearheaded by Life As We Know It director Greg Berlanti, Love, Simon introduces viewers to its titular character, a closeted gay teenager whose emails with an anonymous classmate in the same situation soon threaten to expose his true identity. The coming-of-age film debuts on March 16, but fans are already loving the movie's message. Given how universal the concept is, is Love, Simon based on a true story?
Maybe this is just me, but I love going into a movie knowing as much as possible about its origins and how it came to be. Did cast members talk to real people who, like Simon, grew up gay in a southern community? Were any similar movies recommended to the cast before filming began? Less seriously, did any younger cast members ask Jennifer Garner to recreate the "Love Is a Battlefield" scene from 13 Going on 30?
Blame it on being a part of the Harry Potter generation raised on behind-the-scenes featurettes, but I crave the obscure details of a movie project. With Love, Simon joining such an underrepresented genre, here are five things to know about the film before you see it in theaters.