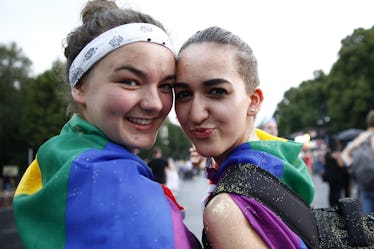 The Pride Parade Is A Perfect Date Spot & Here Are 5 Ways To Make The Most Of It
Michele Tantussi/Getty Images News/Getty Images
Every summer, the LGBTQ+ community and allies join in together for a celebration of queerness during the Pride Parades. All around the world, there are parades and festivals that boast queer celebrities, artists, and everyday folk like you and me. If you're queer and have a date or a significant other during the Pride Parade, you may want to consider some Pride Parade date ideas to make the day extra special.
While I've never attended a Pride Parade with a significant other, I imagine it's just as fun as going single. I recommend going with a large group of friends in case some people decide to leave early, that way others have familiar faces to hang out with. By going to a Pride Parade with a partner or someone you're newly dating, you get to share in celebrating parts of your – or both of your – queer identity.
Please be aware that while Pride is definitely a very fun time, know that there is a lot of alcohol involved in the festivities. If you don't drink or you're uncomfortable being surrounded by lots of liquor, keep that in mind. You can for sure head to the parade without drinking and have no alcohol at the event itself, but you'll likely be surrounded by people who are tipsy or intoxicated. Now that that's out of the way, here are my Pride Parade date suggestions.