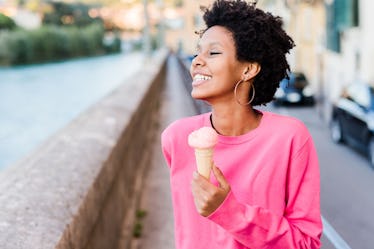 The Best Podcasts For People Who Just Love To Eat Because Like, Who Doesn't?
Six years ago, I joined Instagram for the filters. Six years later, I stay on Instagram for the food. TBH, the only reason I keep any of my social media accounts active is to catch a glimpse of my co-worker's Kodak moment-worthy salad, or the heavily edited, yet still irresistibly mouthwatering posts from influential recipe developers. But I've been foolish, friends. You see, I thought foodtography was the best thing to ever happen to the internet. And sure, food pics are great, but have you tuned in to any podcasts about food lately? If there's anything better than people snapping photos of the food they love, it's people talking about how much they love food.
Maybe I'm late to the game here, because I didn't start listening to podcasts until just a few months ago, when my boss highly recommended I hop on the bandwagon. For some reason I just always associated podcasts with drawn-out lectures, and that turned me off. Clearly this was just my imagination getting away from reality, though, because these days, I prefer my favorite podcasts to most TV shows. And once I learned food podcasts were a thing, I was totally sold.
There are basically as many different types of food podcasts as there are types of cheese, so to help you navigate the digital shelves stocked with appetizing episodes, I've narrowed down a few of the best ones out there that you'll want to dig into ASAP.