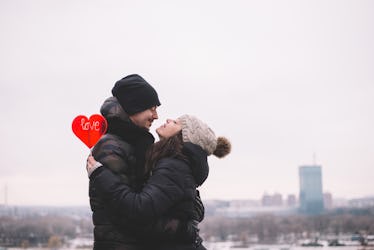 5 Personalized Valentine's Day Gifts For Your One-Of-A-Kind Partner
Nothing says "I love you" like a gift made just for you. Although I've never received a personalized Valentine's Day gift, I know how meaningful it is to receive something from a loved one that was meant just for you, especially for you. Some of the most thoughtful gifts I've ever been given have been the ones I know were chosen or designed specifically with me in mind.
For example, a close friend of mine recently gifted me a pair of tiny, wooden, coffee-mug shaped earrings with the Luke's Diner logo from Gilmore Girls engraved on them. I've been a fan of the show for years now and probably insert way too many Lorelai Gilmore quotes in our daily conversations than she cares to admit. Still, she kept my Stars Hollow obsession in mind when picking out the earrings, which I haven't taken off since. The gift reminded me just how long we've been friends — long enough for her to know that the hand-crafted earrings would be right up my alley since I love natural materials and DIY crafts. Her care in choosing the design also assured me of how closely she pays attention when we get together and how much of our lives we continue to share with each other. I think of her and smile every time I catch a glimpse of the earrings in the mirror.
That's why if you're looking to prove to your partner that you really care about them, you can't go wrong with a personalized gift — a gift that wouldn't necessarily work for anyone else in your life because it's unique to the relationship the two of you share. You can do more than just getting their name printed on an oversized teddy bear, although there's nothing wrong with that, either. Here are a couple of personalized gift options to choose from this Valentine's Day.
A Map Of The Stars From The Night You Met
Or the night you had your first kiss or said "I love you" for the first time. Your Night Sky will create the cutest keepsake to remember that night forever and it's pretty much a guarantee that your partner doesn't have anything like this. The best part about this gift is that it can become one of your gifting traditions as you pass more milestones together. Who knows — by the time you move in together, you could have an entire gallery wall of these prints to mark important moments you've shared as a couple.
A Magic Mug
This adorable gift reveals a photo of you and your partner only when it's hot, making it the perfect gift for your partner to get their day started. Plus, because it's kind of funny, it's also a good gag gift for someone you haven't been dating for that long. Or instead of a photo of the two of you together, why not try a photo of a funny memory you shared or your favorite meme?
A Map Of Your Long-Distance Love
Valentine's Day can be tough if you and your partner don't live in the same state or country. While everyone around you is planning for a wildly romantic night, you're probably getting ready to FaceTime your partner and complain about how much you miss. Cheer them (and yourself) up with this thoughtful creation to let them know your love knows no bounds.
Customized Matching Bracelets
Another great idea is to have the date of your anniversary engraved of these super cute bracelets for you and your partner this Valentine's Day. The subtle engraving ensures that this special memory stays between the two of you.
A Rubik's Cube With Your Face On It
Take game night to a whole new level with this personalized Rubik's Cube. You can add up to four photos of your choice and customize the color of the other two sides.
Heart-shaped candy and balloons are great and all but think of how memorable a personalized Valentine's Day gift will be this year. Happy shopping!
Check out the entire Gen Why series and other videos on Facebook and the Bustle app across Apple TV, Roku, and Amazon Fire TV.
Check out the "Best of Elite Daily" stream in the Bustle App for more stories just like this!