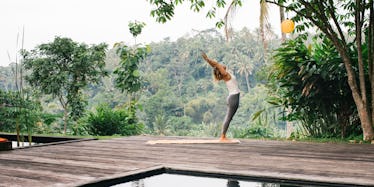 Take Your Yoga Mat Outside & Make The Most Of The Gorgeous Weather With These 5 Poses
It's officially that time of year, guys. It's time to shed your winter coat (literally) and get your butt outside to soak in all the vitamin D. As a yoga teacher, the first signs of spring, for me, always mean it's time to take my mat outdoors and get my flow on in nature. Practicing some outdoor yoga poses is a great way to take your flow to the next level, because after all, there's nothing like the feeling of filling your lungs with fresh air, and moving your body while you're surrounded by the beauty of nature.
From the warm sunshine caressing your face, to the soft sounds of the wind swaying the plants around you, it's truly magical to enjoy an outdoor yoga practice when the weather finally starts to heat up after a long winter. And, look, technically speaking, all yoga poses can (and maybe even should) be done outdoors, but there are a few in particular that will make you feel especially grounded and connected to the glorious season that's approaching.
When the temperature begins to rise, and the snow starts to slowly melt away, embrace the change of season with these five revitalizing yoga poses.