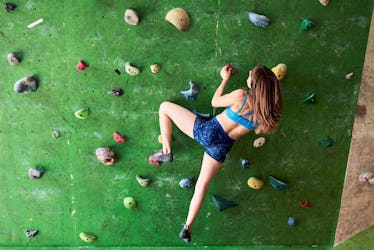 The Mental Health Benefits Of Rock Climbing Will Take Your Well-Being To New Heights
Close your eyes and imagine yourself standing in front of a towering wall with small, colorful pegs scattered along the structure. Around your waist is a snug harness, and you begin to scale the wall, one step at a time, climbing higher and higher. Every move you make is methodical, forcing you to think with your body as much as your brain. It's a daunting activity, to say the least, but there are mental health benefits of rock climbing that exceed the physical ones, and you don't necessarily have to be a master of the sport to reap them. So the next time you're feeling anxious, or scared, or just stressed out from a hard day at work, I'm challenging you to step off the treadmill and climb up a wall, because the view is sure to make you feel exponentially better.
Like many sports, rock climbing is awesome for your physical health, as you're sure to notice definition in your muscles and an overall improvement in your strength the more you practice — not to mention, the endorphins are pretty great, too. But, as important as it may be for rock climbers to have physical strength, Mammut pro climber, Sierra Blair-Coyle, says climbing also takes, and encourages, mental strength. "No matter how strong you are, if you do not approach the route/boulder in the correct way with good technique, you won't be able to do the route/boulder," Blair-Coyle tells Elite Daily over email. This technique, she says, "forces the body and minds of rock climbers to constantly be thinking on the wall," which inspires a sort of mind-body mentality outside the sport, as well.
I know myself, and I've never considered rock climbing to be much more than an exhilarating workout. Though, come to think of it, the only real memory I have of rock climbing was making it to the top of a very large wall in fifth grade. My class applauded for me, it was a great time. But aside from rock climbing being a challenging sport, this specific physical activity is recognized by many people as an incredible form of stress relief, not to mention it's super beneficial for your mental health in the long run. So if you're looking to work off some steam or gain some mental clarity, here are the top five mental health benefits of rock climbing that experts say you'll reap.