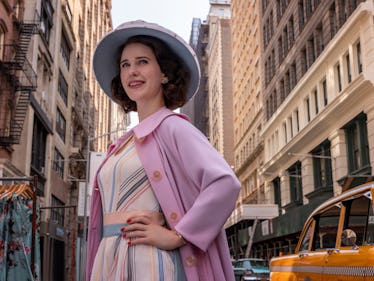 5 'Marvelous Mrs. Maisel' Season 4 Theories That Will Make You Rethink Everything
Amazon
Season 3 of The Marvelous Mrs. Maisel ended on a shocker. After an ill-advised set at the Apollo, Midge was fired off the Shy Baldwin tour. It was a blow to the series' heroine, and it was a blow to fans, who had been chomping at the bit for the show to get out of New York City and let the lead character have the career she deserved. But just because Midge was fired on-screen doesn't mean it's over. The show has been renewed, leading to Marvelous Mrs. Maisel Season 4 theories about where the series goes from here. Warning: Spoilers for The Marvelous Mrs. Maisel Season 3 follow.
When Midge discovered her career had been temporarily canceled at the end of Season 3, it felt like the world was ending. But it's just a temporary setback on the road to fame. As much as fans want to see Midge succeed, it would have been hard to find a story in success. By taking her off the tour train, the series was pushing her back a bit, giving her a new obstacle to overcome: Failure.
But though this set back means Midge is now, once again, stuck in New York City, it is a place for comedy. So how can Midge recover?