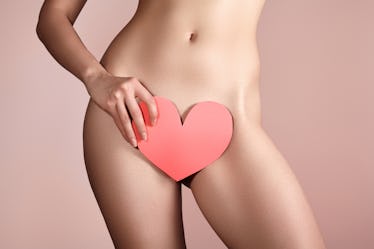 Try Reciting These 5 Mantras If You Want To Manifest The Best Sex Of Your Life
Empowering yourself with positive affirmations is a great way to improve your sex life. Reciting mantras during meditation, in a moment of self-doubt, or even as part of a daily routine like your morning commute can help combat negative self-talk and help bolster your confidence. Which is why, if you're looking to step or spice things up in the bedroom, having a few mantras to manifest the best sex of your life can be so life-changing.
The key is to pick affirmations that build you up and that encourage you to embrace your sexual side. If you have a particular area where you struggle — for instance, if you're scared to speak up in the bedroom — or don't feel as confident in your body as you should (and you should, because every body really is beautiful), then focus on mantras that counteract the negative self-talk that is holding you back. But really, any of these affirmations can be helpful in improving your sex life, because they encourage confidence and that leads to being more relaxed, present, and receptive to pleasure. And after all, isn't that the whole point?
So, the next time you're about to get busy, or are in the midst and feeling blocked, recite these mantras and start manifesting the sex life you deserve.