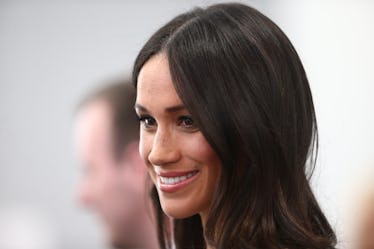 5 Inspiring Love Lessons You Can Learn From Meghan Markle's Relationship History
WPA Pool/Getty Images Entertainment/Getty Images
Meghan Markle — current queen of my heart and future member of the British royal family — is set to marry Prince Harry tomorrow, living out nearly every young American's fantasy. (I, for one, have been dreaming of marrying a member of the royal family since I saw pics of our strapping, young Harry with the Spice Girls in, like, kindergarten.) Consequently, she's left many a young lady asking herself: How can I follow in Ms. Markle's footsteps? What advice might Meghan give me? Fortunately, we've got answers to those very questions. Behold, five of the greatest love lessons from Meghan Markle.
Pulling from Markle's relationship history, and the various nuggets of wisdom she's shared in interviews over the years, she's clearly gifted us all with the prescription for finding a fairytale romance — one that may or may land your face and wedding details on a set of tea towels. And spoiler alert, friends: It actually begins with knowing and loving yourself, not actively seeking out princes or ethically-sourced engagement rings from Botswana. Oh, and taking a few notes from the Golden Girls doesn't hurt, either.
Below, find five of Meghan Markle's loveliest bits of advice when it comes to loving yourself, loving others, and finding your very own Prince Harry (yes, I'm still on the hunt for mine, in case anyone was wondering).