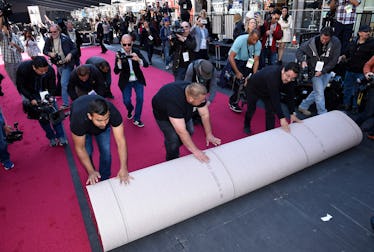 5 Chill Dates You Can Do In LA Without Hitting Nightmare Traffic From The Oscars
Kevork Djansezian/Getty Images Entertainment/Getty Images
Angelenos, how stoked are you that it's Oscar weekend?! *Chuckles* If you're in the industry, you're probably on edge post-Envelopegate/Harveypocalypse. If you're not in the industry, why do you live in L.A. again? While the rain is expected to clear for Sunday's carpet, I wouldn't take the opportunity to meet bae on the roof at Mama Shelter. Instead, why not consider some Los Angeles date ideas that are far, far away from Hollywood Boulevard.
I know, I know... it's not like you go to Hollywood anyways, you're an Angeleno. But the traffic is going to be quite foul from all directions towards the Dolby, so why not stay put where you are? If I were you, I'd pick a sweet spot in my neighborhood where I could indulge in an adult beverage while waiting to find out if the movie about a woman boinking a fish-monster is actually going to win best picture. (Yes, I hated The Shape of Water, and no, I won't apologize for it.)
For those of you who give zero billboards about the Oscars and just want to enjoy a date night in peace, take advantage of a spot that's not airing the awards and find out what it's like to live in the Valley. Not waiting for a table is a beautiful thing! Here are five date ideas for you and your SO, Tinder date, or fish-adjacent FWB to partake in this Sunday.
1. If You Live In Silver Lake And Both Loved Lady Bird:
Every yupster's favorite film of the year brought me newfound appreciation for the 1996 overtly sexual hit "Crash Into Me." Why not pregame a bar with your date by staring into each others eyes while you drink cheap beer and vape a little to DMB, the wannabe jamband of your youth? I would send you to Tiki-Ti in Los Feliz to encourage more nostalgia, but it's closed on Sundays. Instead, head to Good Luck Bar where you can sorta-kinda have your own version of the Chinese Theater to make you feel close to, but very far from, all of the action. Refresh your Twitter occasionally for updates, because you don't watch awards shows anyway.
2. If You Live In Santa Monica And Both Loved Phantom Thread:
Phantom Thread's trailer made it look like boring Oscar's fodder, but I found it to be an incredibly precise and intriguing film about relationships and how delicious martinis with a twist look on screen. Not unlike Paul Thomas Anderson's latest, Santa Monica seems basic upon first glance, but is actually home to one of my favorite spots in L.A. — Ester's Wine Shop And Bar. Indulge in a late-afternoon charcuterie board and martini or three before heading home to watch the show from the comfort of your couch. The martini buzz will mitigate your anxiety when Faye Dunaway and Warren Beatty present Best Picture again this year.
3. If You Live In Venice And Both Loved The Shape Of Water:
Well first off, I completely disagree with you, but you already know that. Venice is divisive, as is The Shape Of Water. Did you just like this movie because you like water, you know, because you live near it? Alright, alright, alright, I'm done! If it's Oscar Sunday, you live in Venice, and you still haven't been to Gjelina, I can't think of a better time for you to try it with your cutie. The Oscars are lengthy, so no matter what the wait is like, you'll definitely make it home in time to see the good stuff.
4. If You Live Downtown And Both Loved Get Out:
You're ahead of the curve on one of the most exciting new restaurant and bar scenes, and on one of the most exciting new filmmakers around. While I'm also rooting for Get Out, I'm very prepared for disappointment, so why don't we all have a drink? Your taste suggests that you're a really cool couple (and I totally would be down to hang out) so I'd recommend you head to The Freehand Hotel's rooftop bar, Broken Shaker. They make some of the best cocktails I've ever had in my life. Take your time before heading home, because the awards your favorite film is up for are mostly going to come at the end of the show.
5. If You Live In Pasadena And Both Wanted The Florida Project To Be Nominated:
You do what you want! You live in Pasadena! You and your boo also are true movie buffs because The Florida Project was excellent and it belongs on the Best Picture list! But alas, if the awards are going to annoy you, why not skip them entirely and head to the iPic theater in your hood to check out Black Panther or Annihilation (if you haven't seen them already)? iPic theaters are very luxurious, and I bet their giant leather recliners are more comfortable than the seats at the Dolby. Plus, you can eat and drink more than just random candy that's been floated down from the rafters. (Remember that?)
No matter what you decide to do for your date this weekend, I hope you enjoy being a little extra luxurious on a random Sunday in March. If celebs really are just like us, why not take their lead and be a little extra for the Oscars?