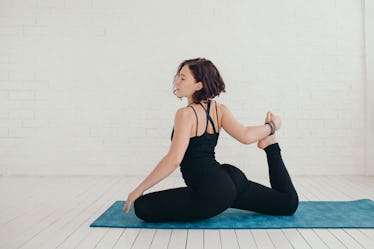 Yoga Teaches You So Much More Than Flexibility, So Here's What Will Always Stick With You
Every time you roll out your yoga mat, you're giving yourself the opportunity to learn all sorts of lessons. Sure, you thought you were going to yoga class to perfect your tree pose, but instead, you emerge from the studio with a heaping dose of newfound knowledge about yourself, others, and the world around you. If you stick with your practice and keep an open mind, there are so many life lessons you'll learn from yoga — after all, you are your own best teacher, and each time you get on your mat, you're meeting and rediscovering yourself in totally new ways.
If everything I'm saying sounds like a big load of spiritual hippie BS, I feel that. I used to think yoga was nothing more than a workout that made me more flexible, and hey, if you're only coming to the practice for the physical benefits, that's more than OK.
But, for me, what started as merely another form exercise, gradually turned into an opportunity to show up for myself in ways that I never imagined I would be able to. My practice, which has gently held my hand through mental illness, heartbreak, loss, and the most turbulent of life changes, constantly reminds me that I'm stronger than I'll ever give myself credit for.
If you stick with your personal practice, I guarantee you'll learn things that you never dreamed would come out of sinking into a downward dog or holding a warrior II. Take it from these five yogis: The physical poses are honestly the least interesting thing about the practice; rather, they are the gateway to acceptance, self-love, and unconditional compassion. Here's what your yoga practice can really teach you.