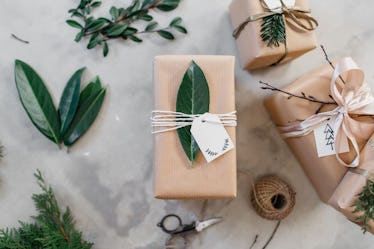 5 Last-Minute Christmas Gifts For Your Partner That Are Still Really Thoughtful
Despite that little voice in your head that was bugging you to nail down Christmas gifts for the important people in your life early on, just like every year, the holiday stress has rendered you gift-less, with just over a week until Christmas. If you've been stuck at procrastination station, you definitely need to come up with some last-minute gifts for your partner, stat. That is, unless you want it to be totally obvious they weren't as high on your priority as they would like to be... yup, I didn't think so.
But there's still time to turn things around! Of course, gifts aren't the true reason for the season, just like grandma says, but they can, however, be a meaningful way to remind your bae just how special they are. But you're going to need to act fast. Depending on how long you've been dating, it may be the perfect time to go the thoughtful route by gifting your partner something heartfelt or something practical that basically says, "I know what your needs are, and I want to show you that I can meet those needs." Here are some last-minute gift ideas that will put a smile on their face.
1. Plan A Trip
If you aren't opposed to dropping a bit of dough, then a real showstopper of a gift would be a plane ticket. This shows them that you're not afraid to treat them when the occasion calls for it. If you're on a more modest budget, then just as thoughtful an alternative would be to plan a weekend road trip to some place they'd love. Since they still might want to open something, why not buy a map and mark out the route?
2. Frame A Picture
Jovana Frame, $24-$28, Anthropologie | Florentine Frame, $18-$58, Anthropologie
This is such a sentimental gift idea and perfect for if you've recently uttered those three little words that rhyme with rye-rub-roo. When choosing a frame, be sure to take into consideration their style. Are they a boho-chic type of person? Or do they prefer a more minimalist vibe?
3. Bathtub Caddy
Teak Bathtub Caddy, $40, Bed Bath & Beyond
First off, you're going to want to make sure you only give this gift to someone who actually likes taking baths. Drains happen to sketch me TK out, so I'm very anti-soak, but plenty of people can't get enough soaking until they prune. This gift says, "I know you value your relaxation time, and I definitely want to help facilitate that."
4. Aromatherapy Kit
Beginners Aromatherapy Gift Set, $80, Amazon | Aromatherapy Portable Diffuser, $20, Amazon
Have a scent-loving babe on your hands? Or even just an SO who is interested in holistic stuff? Chances are, they would definitely love a kit of essential oils. Brownie points if you also get them a diffuser.
5. Spill-Proof Wine Glasses
Spill-resistant Red Wine Glass, $25, Amazon
If you're dating a major klutz, trust me, you are not alone. Plenty of us can't seem to go five minutes without making a colossal mess of some kind. Investing in some spill-proof wine glasses is a great solution. Even if your bae isn't the clumsiest, if they love to host friends for drinks or throw dinner parties, they could absolutely benefit from a gift like this.
It's probably safe to say we've all waited until the final hour at one time or another to do our Christmas shopping. Life's busy, and the holidays are even busier. But luckily, with the help of the internet and the miracle that is next-day shipping, your bae will be none the wiser.
Check out the entire Gen Why series and other videos on Facebook and the Bustle app across Apple TV, Roku, and Amazon Fire TV.
Check out the "Best of Elite Daily" stream in the Bustle App for more stories just like this!