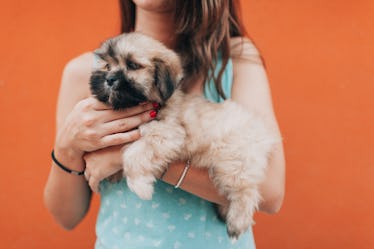 If You Hate Working & Just Want To Play With Puppies All Day, These Jobs Are For You
I don't mean to sound like a "typical millennial," but sitting at a desk from 9 a.m. to 5 p.m. (or even later) can be incredibly painful. Back in the day, when I was working one of the worst corporate desk jobs imaginable, I remember wondering why I couldn't get paid to do something that actually made me happy. Unfortunately, I didn't know about any of these jobs that involve dogs, because each of them sound perfect for a canine lover like myself. If you would appreciate a little more fluff, drool, and happiness in your life, definitely check these out.
I know the perfect job can be hard to come by, especially when you're young and have very little experience in the working world. But according to The Atlantic, Americans have become more pet-focused within the past few years. This probably led to the emergence of more dog-related jobs. Now, you can pursue almost anything in the world of puppies, and it's basically "the dream." Whether you're pursuing art, if you want to make a difference, or if you prefer physical activities, there are so many ways to get your puppy fix (while getting paid to do it, of course). Although it's hard to believe, I know for a fact that loving your job is very possible — especially if puppies are involved.