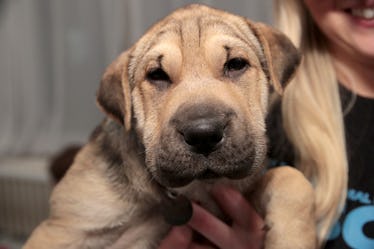 This Company Will Pay You To Instagram Dogs All Summer & I'm Applying ASAP
Cindy Ord/Getty Images Entertainment/Getty Images
At this stage of the game, each and every one of my social media followers are aware of my advanced photography skills... particularly when my subjects are puppies. Sometimes, I'll take selfies with puppies, and other times, I'll just snag a few candid photos or videos of them from a distance. I don't mean to toot my own horn, but it's one of my greatest talents in life. If you feel like taking pictures of puppies could, in fact, be your ideal career, you should apply to be a "Barking Associate." So um, yeah, when can I schedule my interview?
The Points Pups is a site that focuses on informing travelers how to journey with their pups, according to Cosmopolitan. Aside from belly rubs, treats, and head pats, though, the web-based company is looking for one lucky summer intern to fill one of their most important positions, called the "Barketing Associate."
The "Barketing Associate," per the job description, will not only be required to coordinate both social media and marketing for the website, but they also have to really love puppers (specifically three French bulldogs named Miles, Hootie, and Swisher!). Honestly, I think this job was made for me. My new life goal is to climb to the top of the Points Pups corporate ladder, to ultimately become Head Barketing Associate (if that exists). Although I'd been convinced that journalism was my niche in life, it's looking like Head Barketing Associate is my new #CareerGoal.
Point of Pups elaborates the ideal candidate checklist. The position will be best filled by someone who is social media savvy (check), a pet lover and dog whisperer (oh yeah), and by someone with major photography skills to capture the dogs' good lucks (um, hi, yes, that is me).
The summer intern, per the job description, will receive $20 per hour, and the hours are quite abundant, ranging from 24 to 40 hours per week. The best part of it all, however, is that you'll actually get to travel a little bit with those sweet pupperoonies. Getting paid to interact with puppies and travel with them on a regular basis sounds way better than any internship I ever had. If this doesn't make your tail wag, I seriously don't know what will.
The Points Pups website is run by Brian Kelly, who runs The Points Guy, a website which focuses on informing travelers how to maximize their travel experiences.
Per Cosmopolitan, a company spokesperson explained to Teen Vogue that this day in age, there's definitely a need for information on traveling with pets. The social media intern, they continued to say, will not only get a fun and educational experience, but they'll also help the team get the online content they that need.
They said:
Pet travel is gaining so much momentum and we really want to bring awareness to how to do it right. We're so excited for the social media intern to not only bond with our adorable office mascots and create amazing social media content, but to help our editorial team build out a pet travel report that will dive deep into requirements and improvements needed in this growing travel space.
Unless you have a heart of ice (and also maybe cat hair), The Points Pups' Barketing Associate sounds like the perfect job. Not only do they provide ample time to play with puppies, but it will require an abundance of photo opps, and even some puppy-accompanied travel. Since it also happens to pay (quite well, I might add), I would definitely suggest applying. It'll make your resume and LinkedIn page look extra wag-nificent — and in all honesty, can you really say "no" to Miles, Hootie, and Swisher? Those puppy eyes are way too much to handle.