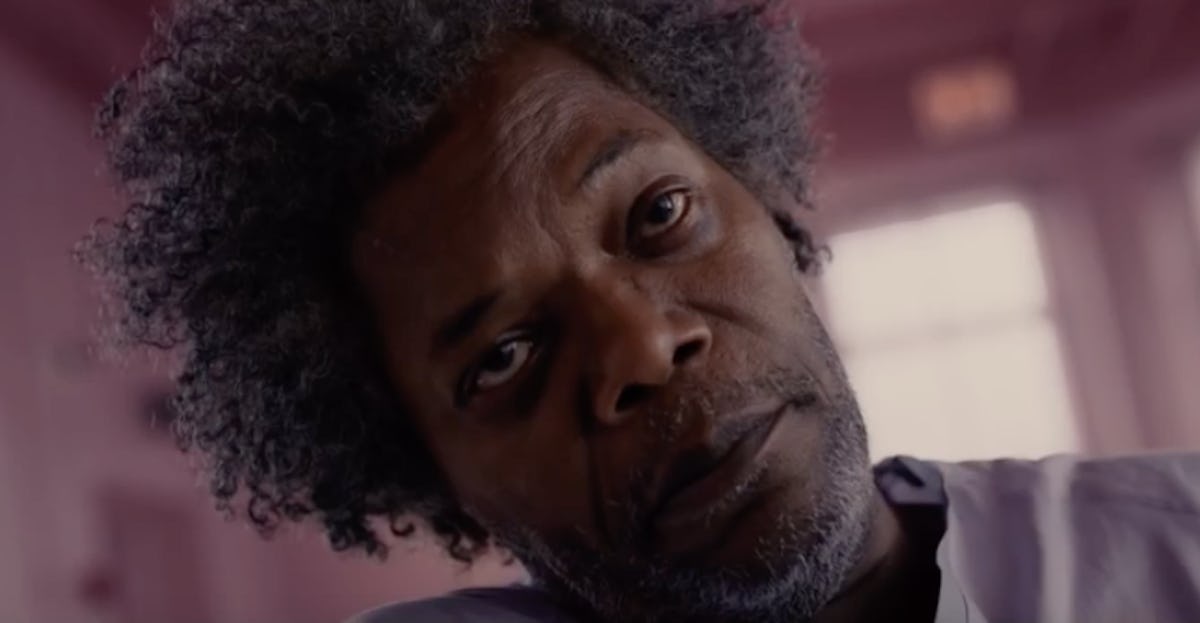 5 'Glass' Theories That Will Get You So Pumped For The Star-Studded Movie
Universal
M. Night Shyamalan continues to expand the complex cinematic universe that kicked off with 2000's Unbreakable and — to the surprise of audiences — advanced courtesy of 2016's Split. Glass is slated to hit theaters Jan. 18, 2019, acting as a follow-up to the films. A new trailer for the film opens up even more twisty doors about what to expect, but there are still many lingering questions about the fate of superpowered trio David Dunn, Mr. Glass, and Kevin Wendall Crumb. Glass theories have been floating around ever since those revealing final frames of Split established its connection to Unbreakable. Shyamalan is known for dropping jaw-dropping plot bombs — what is he up to this time around?
"The three of you think you have extraordinary gifts, like something out of a comic book," psychiatrist Dr. Ellie Staple (Sarah Paulson) addresses Dunn, Elijah Price/Mr. Glass, and Kevin/The Horde in the Glass trailer, which was unveiled on Oct. 11. David Dunn's (Bruce Willis) superhuman abilities were introduced in Unbreakable alongside his mentor and archrival, Mr. Glass. Split added Kevin (James McAvoy), a man who embodies 24 personalities including that of the monstrous "The Beast," a bloodthirsty form of his body that contains super strength and agility. Now that the three men are together in one place, it looks Glass and Kevin will be teaming up for villainous revenge-fueled domination. And perhaps Dunn is the only one who can stop them.
New information about Glass is rolling in as the premiere date inches closer. Let's take a look at some theories about how it might unfold.
1. It's actually all in their minds. Or one of their minds.
Maybe Sarah Paulson's doc is on to something and at least one of these characters' powers are just a psychological illusion.
2. It's related to more than just Unbreakable and Split.
As Reddit user kevinwendellcrumb24 notes, maybe this universe extends beyond what we're currently aware of. He wrote:
Possible connection between the village and the unbreakable universe. The forest officer ivy meets in the road in The village is named Kevin and I tried finding if Kevin wendell(split) had previously worked in walker wildlife sanctuary(the one in the village) and if they had any connection with the phildelphia zoo(split). The kevin from the village could be the same one from split before the horde took over and he could have found employment in the phildelphia zoo through walker wildlife sanctuary.
Does that mean Dr. Malcolm Crowe from The Sixth Sense is somehow linked to David Dunn? My head hurts.
3. Casey Cooke Is a Superhero
Split's Anya Taylor-Joy returns for Glass as Casey, the only surviving captor of Kevin's.
"It seems to me that Casey is a Batman-esque kind of hero. With both her and her villain's trauma turning them into what they are respectively," Reddit's NodisGod posits.
4. There's no twist whatsoever.
All we all just conditioned suckers waiting for Shyamalan to throw us a wrench? As whatculture speculates: "Shyamalan is directing very smartly as of late, and in Glass, we think he'll let the characters (that he clearly loves) shine, rather than having the film be defined by one, potentially gimmicky, third-act reveal."
5. The "villains" are actually the heroes.
Since fresh backstories, traits, and motives might unravel, it feels entirely possible that our perception of who's good and evil in this intricately woven web of a story could be turned on its head entirely.