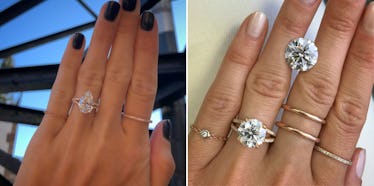 5 Girls Reveal How They Dropped Hints About Their Dream Ring
Your partner takes you to a dark room and the lights suddenly turn on. You're in a Tiffany's store, they go down on one knee, and propose. They tell you to "pick one." This is not a real-life example, but a scene straight out of one of my favorite rom-coms, Sweet Home Alabama. Reese Witherspoon and Patrick Dempsey's characters get engaged in the jewelry store, and he gives her free reign to choose her own ring. Now, if you're worried how to drop hints about your dream ring, and your partner can't take you to a Tiffany's store and tell you to "pick one," then you may need to think about ways to let your partner know the style of ring you'd like.
The truth is that there's an incredible amount of variation when it comes to engagement rings. You have the four C's: cut, clarity, color, and carat weight. And that's not even touching on budget, which is also something that needs to be considered. While some women may feel more comfortable outright telling their partner the style, size, and cut of their dream ring, it's totally okay to be more low-key about it, too, and drop hints about what you want.
An important thing to remember is to be respectful of cost limitations and budgeting in your hints. As a user on the WeddingBee forum said, "Don't suggest anything that might up the price. For example, telling him you like a cushion-cut center stone with channel-set diamonds in the band is cool. Showing him a picture of a 3-carat flawless stone, not so much."
One way to get the ring of your dreams is to leave little reminders of what you like. Founder and designer of Stephanie Gottlieb Fine Jewelry Stephanie Gottlieb did just that.
"I would constantly find designs that I loved online and save pictures to our shared desktop computer at home," Gottlieb says. "And every time I found a new design I liked more than the last, I'd replace it. So when Brett was ready to propose, the latest design up on the desktop was a Split Shank design in rose-gold. He worked with my boss at the time to create the most perfect take on the design I was loving so much."
Gottlieb's now-husband knew she didn't have other rose-gold jewelry to match her engagement ring, so he proposed with a ring and a rose-gold Cartier love bracelet engraved with their initials and the date of the proposal. Ultimate. Goals.
A light-hearted option, if you want to seem super chill about rings, is to blame the ring-talk on your subconscious. Another user on the WeddingBee forum said, "I tell him about 'dreams' I had with rings." Yeah, I'm dreaming about diamonds, too. No shame.
A user on a Reddit thread said she told her boyfriend she wanted a rose-gold, lab-made diamond. These are both specific details she may not have gotten if not dropping those clues. (Her super-affordable ring can actually be found on Etsy here!)
But then again, there are people who are fine dropping the whole subtlety thing and going right for it.
"I always figured I would pick out the ring myself, because I'm a fashion editor, so I wasn't about to let him choose something I'd be wearing for the rest of my life without any input," says Seventeen.com's Kelsey Stiegman. "There was a vintage jeweler I loved in Brooklyn, so we went together. I had already found a ring online that I liked, but when I put it on it didn't feel right to either of us. Then I put on my ring and we both just looked at each other and said 'this is the one.' It was really amazing to get to make that decision together and choose a ring that felt like us. I really think couples should do it together more, because it was such a beautiful moment.
Even though Stiegman and her now-husband chose the ring together, he still kept the details and the date of the proposal a surprise.
Another user on WeddingBee said, "I found my SO actually preferred me letting him know what I liked! He knows I'm pretty picky, so it actually took pressure off him when I agreed to pick my own ring. I sent him links and brought him over to Tiffany's to see the classic." This bride is for sure Sweet Home Alabama-approved.
Check out the entire Gen Why series and other videos on Facebook and the Bustle app across Apple TV, Roku, and Amazon Fire TV.
Check out the "Best of Elite Daily" stream in the Bustle App for more stories just like this!