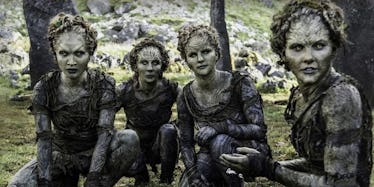 5 'Game Of Thrones' Prequel Theories That Will Leave You Chomping At The Bit
HBO
Game of Thrones Season 8 has wrapped filming, marking the beginning of the end of HBO's flagship series for this decade. But fans know this isn't the end of the adventures set on Planetos. In a world where nothing successful doesn't at least get a run at a sequel, HBO commissioned no less than five pilot scripts for prequels set during earlier periods of George R.R. Martin's sprawling continent-spanning histories. These Game Of Thrones prequel theories run them down.
HBO has revealed one show already. Here's the synopsis:
From the horrifying secrets of Westeros's history to the true origin of the white walkers, the mysteries of the East, to the Starks of legend … it's not the story we think we know.
According to Martin, when it comes to the other four:
One of those has been shelved, I am given to understand... Three more prequels, set in different periods and featuring different characters and storylines, remain in active development. Everything I am told indicates that we could film at least one more pilot, and maybe more than one, in the years to come.
Here's what has been greenlit, what's rumored to be coming next, and what might still be waiting in the wings.