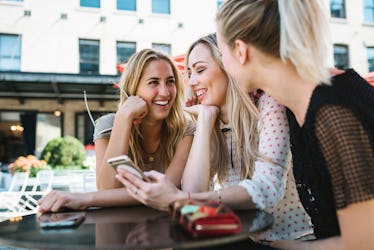 These 5 Galentine's Day Ideas Will Beat Any Valentine's Day Plans
Your girlfriends are some of the most amazing people you've ever met. They're beautiful, friendly, supportive, and they always make you laugh. They are there for you no matter what, and they're always ready to drop what they're doing at a moment's notice when you need them, so it makes sense that you'd want to celebrate Galentine's Day with them — even if you have a significant other yourself. To make the day as special as your gal pals, you'll need Galentine's Day ideas that beat any Valentine's Day plans.
Your girl crew can host a movie marathon night, go out on a shopping spree, or take a mini road trip to get away for the weekend, but whatever you do, you're going to make some fabulous memories with your girls. Galentine's is a great way to celebrate your love for each other and spend some money on lots of pink, red, and white things (like wine, if you're 21 or over).
So what are you waiting for? Start up a group chat and get to planning your 2019 Galentine's Day game plan. Make sure you bring along your Polaroid camera (and your iPhone armed with Portrait Mode, obviously) to document every moment so you can look back on this Galentine's for years to come.