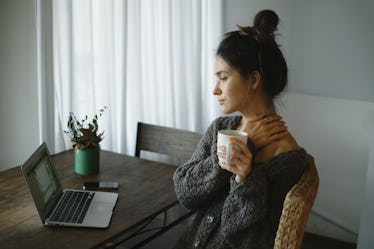 Experts Say You Should Steer Clear Of These 5 Foods When You Feel Anxious
It's no secret that what you eat affects how you feel, not to mention how you feel affects how you eat. The problem, though, is that oftentimes, the snacks you might be apt to reach for to make yourself feel better when you're anxious or stressed, might actually be foods that make anxiety worse. But listen: It's not impossible to find comfort foods that taste amazing and settle your nerves. You just have to get a little creative when you put together your plate.
However, it's important to note that, while there are definitely foods that are generally worse for your anxiety levels than others, Lindsey Smith, aka the Food Mood Girl, a nationally recognized author, speaker, and health coach, says it's just as crucial to remember that everybody (and every body) is different, and therefore, the foods that make you feel better during a bout of anxiety may change from person to person. "Every body is different and bio-individual, so what feels good to some person, might not jive with another," she tells Elite Daily. "Since we live in a world that labels food as 'good' and 'bad,' I think it's crucial to start tapping into what works for you."
Smith also says that food alone won't be the main cause or the solution for your anxiety. "Before nutrition, I always like to say that you can eat as much kale and avocados as you want, but that won't fix a broken heart or the fact that your job gives you anxiety," she explains. Taking care of your mental health — whether you do so through therapy, working out, breathing techniques, etc. — should always be a priority, Smith says, adding that it's especially important "to de-stigmatize mental health and make sure you are focusing on feeling your feelings and not masking them."
That being said, focusing on what you're putting into your body still plays an important role in taking care of your mental health. Here are five foods to avoid when you're going through a bout of anxiety.