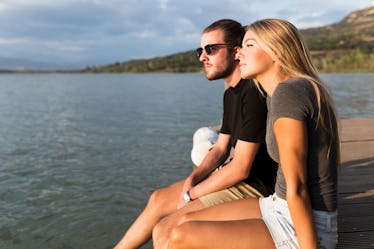 5 Early Signs You're Someone's Rebound, So You Can Protect Your Heart
One of the biggest red flags I keep an eye on during a first date is when someone says they've just gotten out of a long-term relationship. It's not an automatic dealbreaker; everyone has a pst, and if you want to focus on the positive, it means this person is capable of commitment, which... yay! But it can also mean this person might still be healing from a breakup. So, if you like them and want to keep things going, having an idea of the early signs you're someone's rebound is a great way to guard your heart, while still exploring if your connection with this person has the potential to last.
The good news is, according to licensed mental health counselor Michelle Henderson, you might be able to spot some early warning signs that your relationship might be of the rebound variety. "Sometimes, there can be obvious signs that you're someone's rebound if they talk about their ex frequently, or if they say they're not ready for a serious relationship because they just got out of one," Henderson tells Elite Daily. However, Henderson does warn that sometimes those signs can be a bit more subtle, especially if the person you're dating isn't totally aware that they're still healing from their last relationship. "They may think they're ready to get back into dating without acknowledging that they haven't fully healed from their last relationship. This can make it tricky to know if you're someone's rebound because they may not realize that they're rebounding in the first place," she explains.
With that in mind, here's what the experts say to be on the lookout for, in terms of both obvious signs. and more covert ones that mean you could be in a rebound relationship.