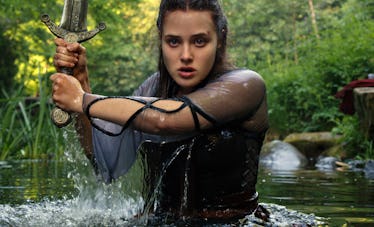 These Details From Netflix's 'Cursed' Trailer Are So Freaking Magical
Netflix
Cursed, the newest high fantasy series from Netflix out July 17, is a retelling of the legend of King Arthur... but from a different perspective. Based on the graphic novel of the same name, the series stars Katherine Langford as Nimue, the famed "Lady of the Lake" from the legends. But instead of Arthur as the main hero, it's Nimue who the sword chooses instead. Based on the details from the Cursed trailer, this new take on the Arthurian tales is going to be pretty badass.
For casual fans of the legends, the Lady of the Lake is probably not that familiar a figure. Most probably know her best from the Monty Python sketch about "strange women lying in ponds" not being a good basis for a system of governance. (There's also the current internet meme that suggests that system of governance would be a damn sight better than what the U.S. has now... but I digress.)
Despite what you may or may not have read in Mists of Avalon, or saw in the 1980s era film Excalibur, the Lady of the Lake is a powerful figure in the legend. It's high time someone gave her the respect due to an enchantress of her abilities. From the Cursed trailer, it seems like the show is going to do just that.
Here are a few details you may have missed: