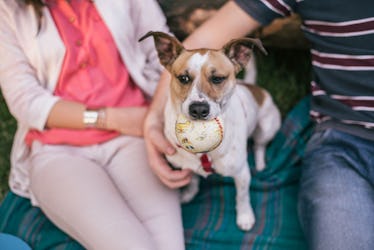 5 Date Ideas Where You Can Bring Your Dogs That Are So Woofing Cute
Being a dog mom is awesome, but if you own a pup, then you know the heartbreak that comes with leaving them home alone while you go out and live your life. Even if you're just going to work, it's normal to feel guilty leaving them at home — especially when you see their sad little face as you walk out the door. So if you have a date planned right after work, it might feel like your guilt doubles because you're gone for so long. That's why having a few date ideas where you can bring your dogs might come in handy. If nothing else, you can make sure your best bud isn't left out of all the fun.
There's a reason why dogs are called man's (or woman's!) best friend. They're loyal, cuddly, and can seemingly sense when you need some extra love. Why not bring them along on your date? You can let your doggo out of the house, and see how your date feels about animals, too. And if your date also loves dogs and has one of their own, have them bring theirs, so your dogs can play and you can look on like the proud parents you are. If your date doesn't have a pup, make sure they know you're planning to bring yours so that you can make sure they're comfortable. Dog allergies are real, y'all.
If you're not actively dating but you're in a serious relationship instead, and you and bae share a dog, there are plenty of places you can go that'll allow your pet to tag along. A family outing isn't complete without your furry family member, after all. Here are some great ideas to get you started.