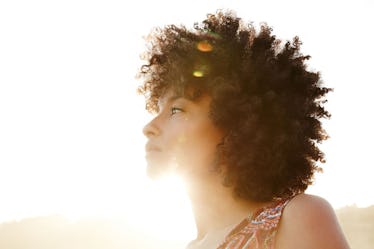 5 Daily Affirmations To Recite When Healing From Heartbreak, To Help Get You Through It
When you have a broken heart, all you want is for the pain to pass and for your heart to heal, but sometimes, it just takes time. How much time, exactly, varies from person to person and heartbreak to heartbreak, but daily affirmations to recite when healing from heartbreak might be just what you need to help put your mind in a more productive and encouraging space.
Visualizing yourself in a place of happiness and healing can really do wonders for your own mood and self-esteem. Affirmations can work to remind you of just how amazing you really are, and can aid you in reframing this time as not just emotionally challenging, but an opportunity for personal growth and to fall in love again — with yourself. That's because, the fact is, you are deserving of love, and even more importantly, self-love. Recognizing that is a great way to kick off the healing process. So, if you are currently in the throes of a heartbreak and need a little boost to lift your spirits and get through this tough time, here are some daily affirmations to help you remember that this will pass, your heart will heal, and you are are incredible and worthy of love.