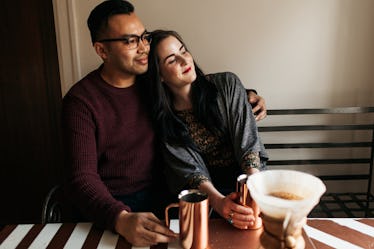 5 Incredibly Cozy Date Ideas That'll Keep Your Night Warm & Romantic
I don't know about you, but all I want to do for the next three months is hibernate. The snow doesn't exist if you can't see it, right? I'm pretty sure the only thing better than turning up the heat and isolating yourself from the rest of the world is being able to do it with another person. These five cozy date ideas are basically the equivalent of a hot cup of tea and a good book, except with a little bit more social interaction. Don't worry, though. You won't have to leave the house for most of them. And if you do, it's for food, so it's worth it.
The next time someone on a dating app wants to grab a drink, you don't have to cancel because it's too cold. Instead, counter their proposal with one of these ideas. They'll likely realize you're a genius and ask you to date them on the spot. If, for some reason, that doesn't happen, you'll still have a fun and unique night ahead of you. What I'm saying is, it's a win-win. Don't get stuck spending the winter alone. Each one of these ideas is guaranteed to keep you warm and keep the romance going all night long.
1. Have A Wine Tasting
You don't need to go to a vineyard for this sweet date night idea. You and your date each pick out one or two bottles of wine — cheap is fine, as there's no need to spend a ton. Grab some cheese and crackers and "taste" (read: pour a glass of) each of the wines. The best part of doing this at home? If you want to finish the whole bottle, you totally can. That is one way to stay warm.
2. Plan A Movie Marathon
Pop some popcorn and snuggle up on the couch for a night of watching only the finest cinematic masterpieces. James Bond films, Jurassic Park... you can choose any theme, as long as the two of you agree. My vote is usually Disney, but that's only because I'm pretty sure it's impossible to watch all of the Harry Potter movies in one night. Although, starting the series together pretty much guarantees there will be a second date.
3. Splurge On A Romantic Dinner
It's cold outside, so why not go to that cute local restaurant on the corner you and your SO have always wanted to try? A candlelit dinner in a romantic setting could be just what you need to get you out of your winter funk. If you're trying to save money, consider just ordering a drink and appetizers or going to a wine or tapas bar, instead.
4. Build A Blanket Fort
Throw it back to your childhood and build a blanket fort with bae. Gather all the couch cushions, throw pillows, and bedding you can find and make yourselves a hidden fortress. You'll stay warm and cozy, at least until a flirty pillow fight breaks out, and you end up knocking the whole thing down.
5. Make Fondue
There's nothing like hot food on a cold night. That's why an evening of fondue makes for the perfect winter date. Heat up some cheese and chocolate, and dip everything and anything into the melty goodness. Just make sure you use a fondue stick and not your fingers, because third-degree burns are not fun.
Your love life doesn't need to freeze up this winter. Suggest these activities for your next date and watch your relationship bloom.
Check out the entire Gen Why series and other videos on Facebook and the Bustle app across Apple TV, Roku, and Amazon Fire TV.
Check out the "Best of Elite Daily" stream in the Bustle App for more stories just like this!