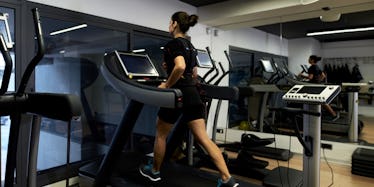 5 Cardio Red Flags That Might Mean You're Pushing Yourself Way Too Hard
Many people have an ongoing love-hate relationship with cardio. Getting yourself to actually do it can feel low key excruciating, but once you hop on the treadmill or mount the elliptical, the feel-good endorphins that follow make the experience totally worthwhile. However, if you pound the pavement or have dates with the stationary bike on the reg, there are a few cardio red flags that you should definitely be aware of, to avoid setbacks and injuries.
While symptoms like a sweaty, beet red face, sore muscles, and heavy, Darth Vader-esque breathing all certainly signify that you're giving your workout your all and pushing your muscles to the max, there are also similar signs that your body is crying out for rest. It's important to always listen to your body's signals while you're squeezing in that routine cardio workout, so that your don't overwork yourself and put your muscles, joints, and overall health in harms way.
It might be tempting to take the easy way out and dismiss signs of discomfort, but if you frequently shrug things off, it'll likely lead to persistent pain an distress.
There are ways to stay totally safe while you're out there slaying the cardio game, though. Just make sure you're mindful of these five cardio red flags, so that you're not pushing yourself way too hard during your next sweat sesh.