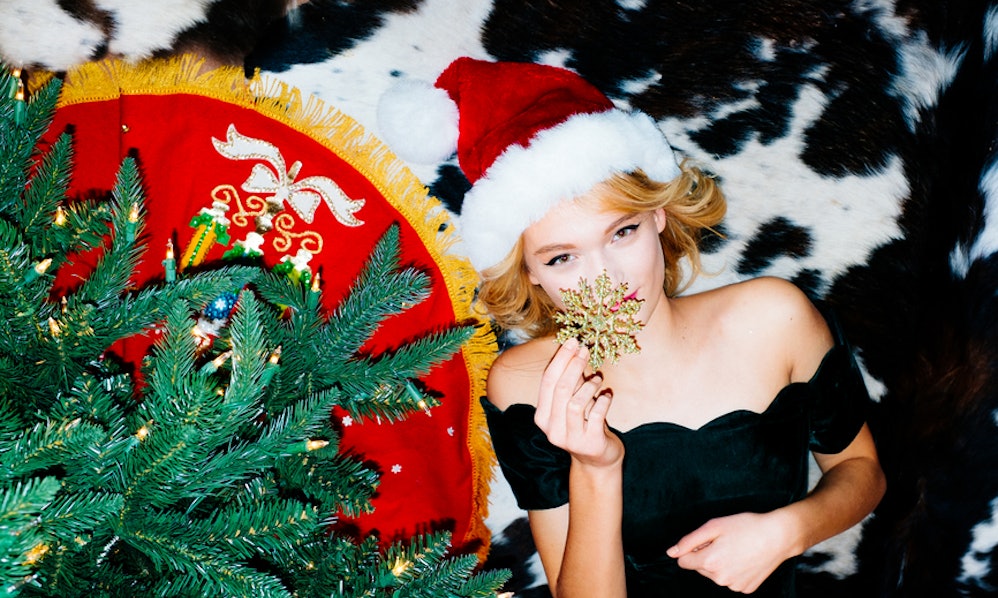 Gabrielle Lutze/Stocksy
5 Boozy Christmas Ornaments You Can Drink & Decorate With
'Tis the season for decking the halls in glitz and glam, sipping spiked eggnog by the fire with our mains, and lots of cookie swapping. Even for those of us who aren't the most well-seasoned bakers, slice and bake Frosty the Snowman — along with some mulled wine for liquid courage, of course — becomes our new BFF. It's a jolly AF (questionably, extremely extra) time of year, and mostly anything seems possible. This mentality even applies to decorating your Christmas tree. Whether you're a diehard wino at heart, or a girl who lives for tequila Tuesday, your vibes should be perfectly represented on your tree this year with a bunch of boozy Christmas ornaments. After all, 'tis also very much the season of giving, so you should make sure your tree is just as lit as you'll be this holiday. Sharing is caring, my friends.
If you're celebrating your first Christmas in a new apartment, or you're spending the holidays home sweet home with the fam, decorating the tree is a tradition many of us fall in love with all over again each year, without fail. There's something incredibly magical about streaming holiday music and sharing laughs with the ones you love most while you're decorating. Get ready for another holiday to remember, and live by a few of my very favorite, essential words of wisdom: "I'm dreaming of a white Christmas... but if the white runs out, I'll drink the red."
1

We'll Be Rockin' Around The Xmas Tree With These Boozy Bauble Shots
Christmas Boozy Baubles Hanging Shots, $27.12, Etsy
These hanging shots are ready to get the holiday partying started, and we're seriously here for it. Each ornament comes with its own ribbon, and you can fill them up with whatever alcohol your heart desires. Just make sure you end up leaving some of the shots on the tree! Don't be greedy, because Santa just might put you on the naughty list. Tisk, tisk.
2

May Your Days Be Boozy And Bright With These Whiskey Ornaments
Whiskey Ornament Value Pack, $36, Etsy
If you're a major whiskey fan, these boozy babies were made for you. The pack comes with Tennessee Whiskey, Gentleman Tennessee Whiskey, and Tennessee Whiskey Single Barrel ornaments. They don't actually contain any alcohol inside, but they're the ultimate addition to bringing out your tree's lit-est potential. I'll cheers to that.
3

Come And Trim My Christmas Tree, With Some Decor Bought At The Liquor Store
Winedeer ™ — Very Merry Moose — Bighorn Sheep, $18.95+, Etsy
Um, can we just take a quick hot chocolate break and talk about how adorably festive these little dudes are? Of course, every wine lover will go absolutely *roasted chestnuts* over them, because they're made out of wine corks. Seriously though, wine corks have so much potential when it comes to DIY-ing for the holidays. This wino crew definitely has a special spot on my tree this year.
4

Santa's Boozy Stocking Is Obviously Hung With Care
Party Flask's Santa's Stocking Flask, $19.99, Amazon
OK, this gem of a stocking will probably get hung above the fireplace next to your tree, and it's a necessity to make your season all the more merrier. I mean, how could you even think about passing up a stocking that holds three bottles of wine?
Having several of these stockings on hand is your best bet for every holiday bash you decide to throw this year, and for many years to come. To be honest, all I want for Christmas is all the booze-filled stockings (pretty please, Santa).
5

Tinsel And Whiskey Baubles? Yes, Please
The ONE Bauble Gift Set, £35.00, The Lakes Distillery
This epic holiday set features six ornaments that are filled with ONE British Isles Blended Whisky. The whisky is made in the biggest distillery in England, so you just know these ornaments will #bless the tinsel on your tree with their presence. Happy *boozy* decorating, and let's get that Baileys hot chocolate going.
Merry Christmas to all, and to all many cozy, boozy nights.