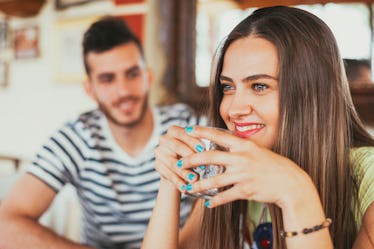 The Are The 5 Body Language Clues That Mean Someone Is Single And Looking
It goes a little something like this. While standing at a crowded bar, you scan the room for a potential bae. Finally, your eyes land on someone who seems worth talking to. It's not necessarily the stylish kicks they're wearing, their perfectly groomed hair, or their sly smile that inspires you to walk over. There are definitely body language clues that mean someone is single and looking, and when you pick up on them, you're far more likely to muster up the courage to approach them.
If only we could figure out for sure if that cutie at the coffee shop or across the subway car is unattached and interested before we even strike up a conversation. It would make flirting in the real world a heck of a lot easier, right? While there's no way to know for certain without asking, body language can offer a lot of insight. For example, one study published in Semiotica, which discussed nonverbal courtship behavior, revealed that women are more likely to be approached if they smile, dance by themselves, look around the room, toss their heads, or fixate their gaze on a specific person in the room.
Want to be able to read the room a little better next time you're on the prowl? Body language expert Patti Wood says there are certain clues that can tip you off that someone may be single and on the lookout.