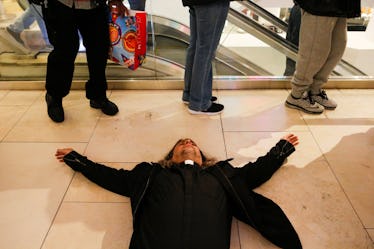 5 Black Friday 2017 Ads That Will Have You Ready To Shop 'Til You Drop
Eduardo Munoz Alvarez/Getty Images News/Getty Images
It's Thanksgiving week, everyone! If you didn't wake up this morning and start making a grocery shopping list for turkey and sides, it's because you probably woke up and realized that four days until Thanksgiving means... five days until Black Friday. Are you not ready for Thanksgiving yet, let alone Black Friday? That's too bad — time doesn't care what you're ready for, it only goes forward. So let's get up and at 'em and watch these Black Friday 2017 ads to help get you in the spirit of consumerism in the name of family holidays.
Most Black Friday ads on TV are local ones, hawking the gifts you can buy at your local Megamart, your nearby car dealerships, and your local electronic stores. But there are some that are large enough to be national ads across the United States. WalMart, for instance, is still the largest retailer in the country despite Amazon's best efforts. Speaking of which, Amazon also has a national ad out this year. And then there are the ones we see commercials for all year round who have Black Friday'd it up, like Target and Wayfair.
So, here are the most festive commercials of the season, and we hope they get you in the mood to shop, shop, shop.
And if they don't, hey, there's *always* Cyber Monday. (You weren't planning on getting any work done after a four day weekend anyway, right?)
Amazon
Amazon isn't restricted by things like "Federally Mandated Holidays" or even things like "hours" or "parking lots." Therefore, their Black Friday sales aren't limited to Friday either. Instead, they have a Black Friday that spans a full week, and a Cyber Monday that goes until New Year's.
Amazon is also one of those stores that practically doesn't need commercials. Everyone knows it exists and everyone knows their address, and everyone knows what they sell: everything! Still, Black Friday is one of those few times that Amazon spends the money to do a national ad to remind everyone their Black Friday sales started oh, like, three days ago.
Good times indeed. Keep singing, boxes.
Wayfair
Wayfair, they've got what you need. Including commercials filled with the worst earworms ever invented. So, are we all that surprised they're also the ones making memorable 15-second spots for the Black Friday blow out?
Even if that "Black Friday Blowout" that comes over the ridge that we've all been waiting for is really just "a couch no one would want in their house" on wheels, and a piece of cardboard stuck on the back of it?
No one said these commercials had to make sense. They just have to work.
Wal-Mart
Wal-Mart is going for the Marvel Guardians of the Galaxy play with a commercial promising both miracles (not having to wait in long lines) and a soundtrack right out of the '70s.
Come and get your love, indeed. Personally I'd rather have Groot and Rocket do delivery, so I don't have to drive in the snow.
Target
Target goes all in on the Disney and Warner Brothers branding department for their holiday spot, with toys looking for a home for the holidays, right out of Pixar's Toy Story, and a cameo from Lego Batman.
Personally, I'm not sure I'd want minions to make my house special, but that's why these are decisions made by small children and not by adults.
Nissan
Did you really think we'd get out of a Black Friday commercial rundown without a Star Wars-themed spot with Star Wars: The Last Jedi coming out in just under a month?
You did? What rock do you live under? Can I join you? No? Oh, okay.
I suppose at least the Nissan dealership isn't in a galaxy far, far away. But considering the parking situation, it might as well be. Until then, we'll consider the age old question... does anyone really buy each other new cars for Christmas?