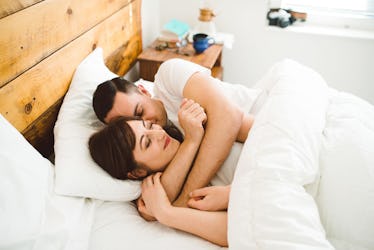 5 Best Things About Waking Up Next To Your Partner, So Definitely Sleep Over
I love waking up next to my partner every morning — but especially on the weekends, when we don't have to hop right out of bed and get the day started. Instead, we can just snooze a little, get cozy in our blankets, and snuggle up with our cats. I know, we're the worst, but it's honestly moments like this that are some of the best things about waking up next to your partner. They can even make the sting of having to wake up a little easier. What can I say? It's the little things.
But it's more than just feeling cozy that makes this so special, because waking up next to each other can be really symbolic of where you are in your relationship. If you're waking up with them beside you every day, you're likely in a pretty serious and comfortable place in your relationship — and isn't that the whole point? It's easy to overlook something so small that's not exactly a grand gesture, but it's these small special moments that build intimacy and closeness. Even if you're not a morning person, you can't help but appreciate that.
Plus... cuddling is just fun, you guys. Especially when it's with someone you love.