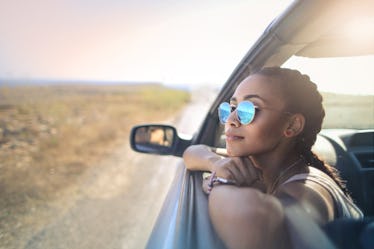 5 Best Places To Travel To In The U.S. Alone, For A Sweet Escape From Adulting
Alone time is a necessity. You work hard all week long, and deserve a break. (Adulting can be exhausting, after all.) Traveling is a great way to get a change of pace and to break out of your normal day-to-day routine. With mini getaways trending this year, finding a good spot for a solo vacay has never been easier — or closer to home. These are the best places to travel to in the U.S. alone, from mountain retreats to beach towns for fun in the sun.
If you're looking for a digital detox, a chance to completely go off the grid, an opportunity to connect with nature, or a spot to just relax and chill out, these cities are definitely the places to travel to. You'll be able to kick back and ditch any work and drama for a little while, and even better, you'll get a chance to spend quality time by yourself.
Alone time can be way underrated. Spending time by yourself is an opportunity for a well-deserved escape from your daily schedule. If you're looking for a place to recalibrate, here are some of the best spots in the U.S. that you should consider for your next trip.