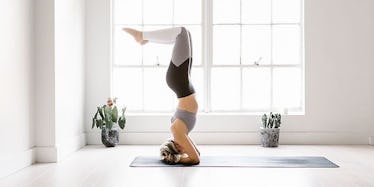 5 Essential Oils That'll Make You Feel Zen AF During Your Next Yoga Flow
If you've ever been to a yoga class before, you've probably encountered essential oils. Aromatherapy is frequently used to enhance the incredible mind-body experience of yoga. Essential oils can help you focus, wake you up, and honestly, these lovely scents just make you want to smile. But what are the best essential oils for yoga that'll truly take your practice to the next level?
The benefits of essential oils honestly can't be understated. From stress relief, to immune system protection, to energy boosts when you need them most, there's basically nothing that these little bottles of liquid magic can't do. And when it comes to using essential oils in your yoga practice, these bad boys will complement each inhale and exhale that you take, and accentuate every asana that you flow through.
Each scent provides a different kind of experience. So, depending on what mood you're in or what kind of energy you'd like to cultivate, that will determine which oil you should use in your practice.
Keep in mind that less is definitely more when it comes to aromatherapy, so be sure to start off with only a couple of tiny drops and work your way up if and when you want to.
Here are five essential oils that will take your yoga practice to a new level and make you feel totally blissed out from head to toe.