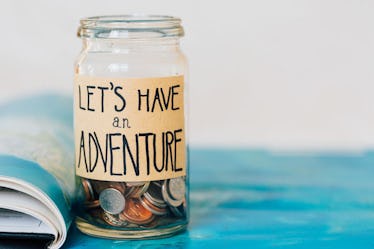 The Travel Goals You Should Make This Summer If You're Totally Broke & Open To Anything
If you've got a serious case of wanderlust, you're not alone. We all dream of jetting off to far-flung destinations and having adventures of a lifetime. There's usually only one thing stopping us, and that's a lack of money. Some of us are broke AF and the struggle is real. There's no denying that traveling can be quite expensive, otherwise we'd all be taking flights. However, it's easy to forget that travel is still possible. There are definitely some attainable travel goals for the broke girl with a travel bug.
Traveling doesn't have to be a grand affair. As you scroll down your Instagram feed to see friends frolicking in Greece and Bali, it's natural to have a serious case of FOMO. After all, you'd be taking those same trips if you could afford to. It's important to remember that you can also have your own adventures with proper planning. You may have to hold off on seeing your bucket-list destination for now, but that doesn't mean you can't get a taste of the travel life. There are plenty of ways for you to see the world without spending your life savings. These travel goals are perfect for the girl who's determined to explore the world on a budget.