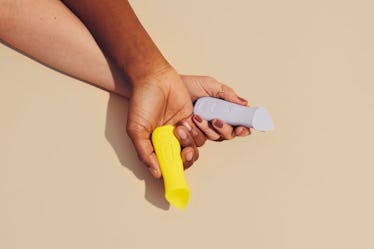 5 Amazing Sex Toys For Your Clitoris, Because You Deserve To Get Yours
There are so many innovative and fantastic sex toys out there that can help you achieve practically any sensation on just about all of your erogenous zones. But when it comes (pun intended) to sex toys, no matter how technologically advanced, it's hard to beat all the amazing sex toys for your clitoris out there. Hey, sometimes life gets hard you really just need to take a moment for some literal self-love.
Whether you're ready to buy your new favorite vibe, or you're in the market for your first, all the options can be a little overwhelming. There are so many of them, which isn't a bad problem to have, if I do say so myself. But how do you even know where to start? Below, five suggestions for various clit-worshiping vibes that are sure to satisfy, whether your preference is for the shear rumbling power of a wand or a more discreet and precise toy designed to perfectly hit your spot. There's even a vibe that will help you put data to work, improving your orgasms. Like I said, vibe technology has come a long way. The good news is that with these, you'll get to benefit from it personally. Over and over and over.