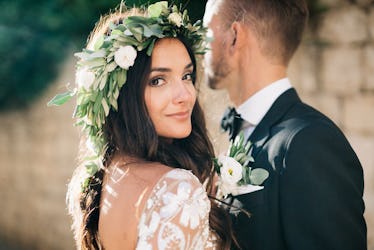 If You See Wedding Bells In Your Future, You're Probably One Of These 4 Zodiac Signs
When you close your eyes and imagine the future, what do you see? Maybe your vision is all about your career and ambitions. Perhaps you see kids, or buying property, or moving to a new city. Marriage might also be a part of your vision. The idea of settling down is not something everyone wants, and that's OK. But for zodiac signs who see marriage in their future, their plan to wed is a no-brainer. Of course they want to commit to someone forever, and in some cases, the sooner the better.
Some folks may want the emotional security that comes with walking down the aisle and saying "I do" to spending forever with someone they love. For others, it could be about comfort, tradition, and the desire to start a family with their partner. Whatever the case may be, if you're ready to get serious about settling down and getting married, then these astrological signs are probably on the same page about the future.
That's not to say these are the only zodiac signs who see wedding bells in their future. Anyone may want to spend their life with someone and make it "officially official." But these four zodiac signs have been planning their dream wedding for years. Just ask to see their secret Pinterest boards!