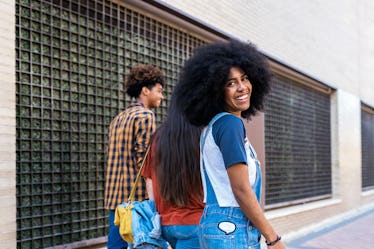 4 Zodiac Signs Who Make The Best Matchmakers, So Reach Out To Them To Find Love
I love setting my friends up on dates — maybe even a little too much. As a... let's say, "opinionated" Virgo, I have a lot of thoughts about who would make a great couple and I am not afraid to speak up and try and put two people together. And actually, not to brag (much), but I'm pretty good at it. In fact, I actually set two people up who got married. But then Virgo is one of the zodiac signs who make the best matchmakers, so really I can't take all the credit, since these matchmaking skills were pretty much written in the stars.
Seriously, though — while any sign in the zodiac is capable of setting up their friends on dates, there are a handful who have the personality type and intuition to make them natural matchmakers. You can usually spot them because they are the ones that keep (not-so-) subtly suggesting you meet their friend who you just have so much in common with. But hey, maybe it's time to stop resisting their their advice and give love a shot? After all, they have a celestial gift, and, when you put it like that, why wouldn't you want them to set you up? So, when you're ready to meet someone new, here's which of your friends you should turn to for the best matchmaking advice, based on their zodiac sign.