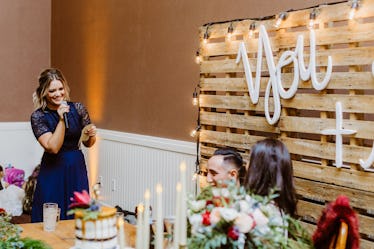 4 Zodiac Signs That'll Give The Best Wedding Speeches, So Ask ASAP
I am a total sucker for a wedding. I love all the pomp and circumstance. I love the dress, the crying couple exchanging vows, the open bar, and, of course, I love a good speech at the reception. Sometimes they are really emotional and moving and make you believe in love. Sometimes they are hilarious and give you a whole new appreciation for the newlyweds. And sometimes, they are a painful cringe-worthy mess — although, admittedly, I enjoy those, too. Chances are you'd like to avoid having that happen, so knowing which zodiac signs that give the best wedding speeches can help you pick the folks you'll be happy to hand the mic to at your own wedding.
While all the signs in the zodiac are capable of giving an amazing toast at the wedding, there are a handful of signs for whom this role just comes more naturally. Whether it's because they just feel really comfortable speaking in front of a crowd, are naturally funny and charismatic, or willing to put in the work ahead of time to make sure it goes off without a hitch, these are the folks that you want to consider asking to give a toast when you're planning your wedding party, according to their astrological sign.