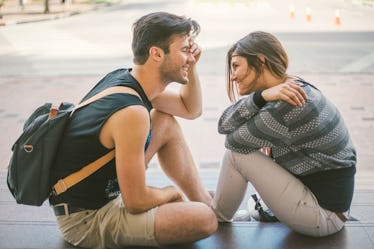 4 Small Ways To Strengthen Your College Relationship, For Even The Busiest Couples
College is an amazing time. You learn so much about yourself, you make friendships that can last a lifetime, and you dive into a life-long passion that inspires you on the reg. There's also a chance you'll fall madly in love with someone wonderful, who you really want to be serious with. But as much as college is incredible, it's also incredibly busy, which can make maintaining a relationship challenging. The good news? It's not impossible, and there are lots of little things you can do that make for great ways to strengthen your serious college relationship. Because who wants to let all those long nights spent studying get in the way of true love? Nobody, that's who.
"Open, honest communication is essential for any romantic or sexual relationship," Nicole Cushman, the executive director of Rutgers University's Answer, told Affordable Colleges Online. She continues, saying "any healthy relationship should have a good balance between time spent together and apart, and each partner should be able to maintain their individual identity rather than being absorbed by the relationship."
If both you and your partner are on the same page about those things, then your relationship should hold strong. But still, it never hurts to have a few extra little tips to help really reinforce your bond. Ones that make it even easier to stay close — both while you're in college and after. Because — spoiler alert! — it's not going to get easier after graduation.
Here are a few ways to help strengthen your college relationship to ensure you stay together long after your cap and gown are tucked away.